DID YOU MISS THE PRESENTATIONS AT the 2019 AIMEXPO? View them as webinars!
IF YOU Attended THE PRESENTATIONS AND WANT COPIES OF THE SLIDES,
PLEASE COMPLETE THE FORMS BELOW
Capturing The Millennial Market
The reason millennials are buying bikes has shifted; so we will explore what's actually driving these younger buyers down the path to purchase and explore actionable marketing strategies for dealers to reach these buyers at the top of the purchase funnel.

[contact-form-7 404 "Not Found"]
off-road to the rescue: The Growing atv, utV, and dirtbike consumer
Using exclusive data from ATV Trader & Cycle Trader, we will dive deeper into the rising offroad market – examining consumer demographics and discussing actionable strategies dealers can implement right away to more effectively convert these buyers.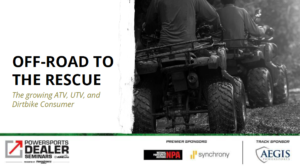 [contact-form-7 404 "Not Found"]